Winter is the season where holly shows off its best, beautiful berries and shiny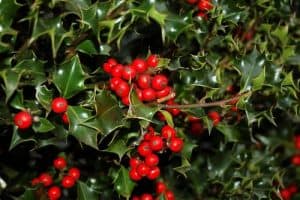 evergreen foliage.  And yet, winter can also be holly's most challenging season.
Here are the 6 steps to growing healthy holly plants and ensuring good berry set:
Holly is sensitive to strong winter winds and varying temperatures.  Plant Holly where it will have the least wind and temperature exposure.  The east side of a house or the downwind side of a tall fence or a grove of evergreen trees usually provides some of the best wind protection possible.  These sites also tend to resist temperature fluctuations as well.
Holly doesn't like poor, clay soils.  Amend the soil at the time of planting with compost. Remember that the roots will expand, so amend the soil over a wide area (at least a 3′ wide circle).  Mulch annually, not only to inhibit weeds, but mulch also moderates moisture levels and soil temperatures.  Mulch also helps to replenish compost levels in the soil.
Water during dry times, whether it is summer or winter.  Like any living plant, holly needs a good drink occasionally.  And, since Missouri is known for long periods of drought, watering during dry times is critical.  In summer, if no rainfall, holly would like a thorough soaking once every week or two.  In winter, when the ground is thawed, they need water at least once every three weeks.
The broad evergreen leaves of holly are still susceptible to drying in the winter.  Spray Wilt-Pruf or other anti-transpirant on the leaves mid-November to reduce winter damage.
Plant a male holly within 40′ of the female holly plants. Since only the female hollies will bear fruit, a male variety must be present for the bees to do the pollinating.  Male plants tend to have a different habit than the female varieties.  They can grow in the same grouping as the females, or be placed as a separate landscape shrub.
Encourage good fruit-set by planting pollinator-attracting plants nearby.  Protect our pollinators by reducing pesticide spraying and providing plant diversity.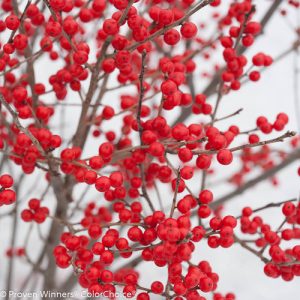 Love red berries?
Consider growing Winterberry, a holly that loses it's leaves in winter.
Winterberry isn't as fussy as the evergreen holly but still has an incredible amount of red berries in fall and winter.  The native form is known as Possum Haw and grows in full sun to part shade and is more tolerant of clay soils.