Welcome spring with this blooming container for your patio or deck. Pansies, spring bulbs, and other cool-season flowers and veggies planted in a 16″ shallow bowl.
Workshop fee – $30
Call 573-584-9611 to sign up for your preferred class time: 11:00 or 1:00.
Class size is limited so payment is required to reserve spot.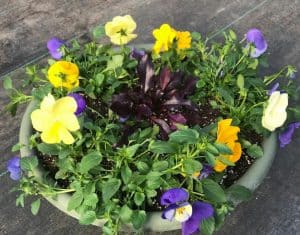 This planter has trailing pansies, regular pansies, ornamental beets, and dwarf daffodil bulbs ready to pop up when the weather is warm enough.  Many other combinations are possible.
This combination is perfect for the deck, patio, or door step and can take surprisingly cold temperatures.  Instructions on care is a part of the class.