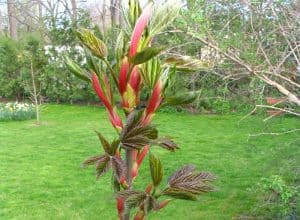 Wow! If you are looking for a tree that will turn heads and have the neighbors talking, the Regal Petticoat Maple is for you. This tree provides three seasons of interest and color.
In the spring, new growth emerges in shades ranging from pink to copper as it pushes its way out of the elongated crimson bud scales, giving the plant an exotic feel. Once fully leafed out, the leaves take on a two tone appearance, with the top portion of the leaf being a glossy dark green and the underside contrasting in a rich velvety purple. The tree is spectacular in the fall, with shades ranging from orange to yellow on the top of the leaf and the undersides turning bright pink to red.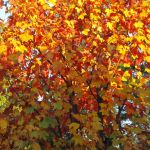 The Regal Petticoat Maple is a great choice for shade in any yard with the room to house it. It has an upright, vase shaped habit, reaching a maximum height of 40 ft., with a spread of 30 ft. Hardy to Zone 4 (and maybe even Zone 3), the tree has been grown as far north as Canada, and has been successful as far south as Arizona. This fast growing maple is both wind and drought tolerant once established, and has shown excellent resistance to diseases. The Regal Petticoat Maple is not even fussy about soil types or pH, and, as an added bonus, it's seedless! This makes it a fabulous choice for both urban and commercial settings.
If you want to have a tree that provides you with amazing visual interest throughout the growing season, The Regal Petticoat Maple is an excellent choice!