How the Cold Weather is Affecting Indoor Plants.
Why should indoor plants be affected by the cold?  Temperatures are moderated in our homes, near 70 degrees.  How can that be?
Drought in the House –
Here is an observation made by Carol Ellinger on the results of hard-working heat furnaces: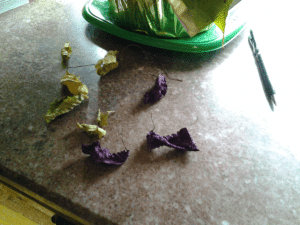 "I was gone from home one week over the holidays and watered my indoor plants well before I left.  Usually I only water them about once a week so I thought they would be fine.
Upon my return, they looked a little peaked.  My beautiful poinsettia had leaves that seemed to turn in on themselves as if hurting.  Under the plant were leaves and flowers so dried they crumbled to the touch.  My peace lilies drooped so badly that "peace" was sadly almost lost.  Since I have been back, it seems they droop every other day or so….so, NOW I water them!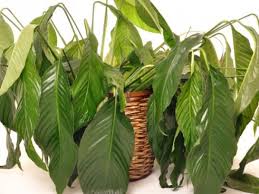 Is there a drought in my house, I thought?  But reason intruded.  With the outdoor temperatures running abnormally low (with zero or below for multiple days), my furnace was running overtime.  Sooooo, my plants were drying out sooner than normal, demanding water to survive.
Hmmm…perhaps I need to remember this come summertime, in my yard.  When it's extra hot, plants need extra water.  How simple, yet how I forget."
– Carol Ellinger, semi-retired bookkeeper at Longfellow's
The creeping cold and drafty spots –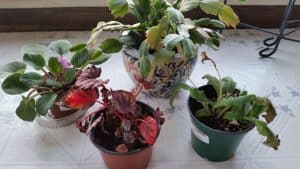 Along the floor, near windows and door, and other poorly insulated spots are substantially colder than what Missourians typically experience in winter.  This cold snap has brought to our attention some changes in our indoor plants that we don't normally see. African violets, begonias, ficus, poinsettias, and certain orchids are a few examples of plants that don't tolerate drafty locations.
"Due to lack of room in a well-lit location, my African violets were relegated to the floor for a few weeks.  After one week into this cold spell, the results were obvious.  Outer leaves were curled downward and limp, the center leaves were disfigured, and the color wasn't right.  Within 3 days of moving them 2′ about the floor where air circulation was better, they looked much perkier.  The same thing happened with begonias, streptocarpus (related to violets), and orchids.  The plants were getting plenty of light, as we were having beautiful sunny days.  The air circulation, however, was not sufficient to reduce the cold spots."  – Alice Longfellow
Stacey Davis (Nursery Manager) reports that her plants showed decline during this cold snap because of the cold creeping up from the concrete floors.  Again, raising the pots or placing them on wood seems to reduce the cold effect.
The bottom line?  Read your plants….they will tell you what is going on.  Then, move or raise them up if cold is the problem.