Miscanthus sinensia
Adagio
Adagio Grass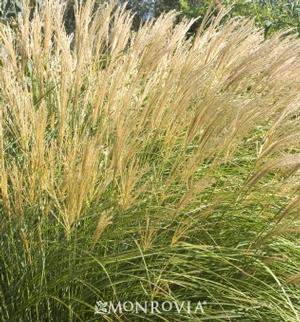 A compact miscanthus, forming a neat mound with a prolific production of blooms. Its narrow, silver-gray striped, fine textured foliage arches nicely, with salmon-white blooms appearing from September-November. An excellent miscanthus selection for smaller gardens and plantings. Considered deer resistant once established.
Graceful, silvery-green arching foliage
Bronzy-pink, fading to white plumes
Orange, gold and burgundy in fall
Growing Tips:
Miscanthus grasses are easy to grow and is a good choice for beginners. It will grow in almost any soil, from loose sand to heavy clay, and does not require good drainage. Grow this grass in full sun except in warmer regions where some afternoon shade is best. Fertilization is not necessary. Divide Miscanthus in spring or early summer to give it time to establish its roots before winter arrives. 
Characteristics & Attributes
Height: 3-4 feet
Spread: 3- feet