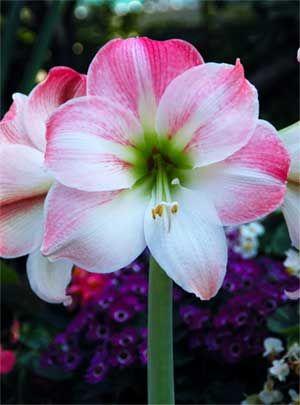 Enjoy Amaryllis anywhere in the house while in bloom.  Their large bright flowers add color and life to any spot, especially in the winter.  Easy to grow.  Read more to find out how to get Amaryllis to bloom next year.
An easy bulb to grow inside
Good color for the winter
Many colors are available
The flowers of Amaryllis are formed the summer before they bloom.  If you want your bulb to bloom again next winter, they must have plenty of sunlight and food during the spring and summer while they are forming the buds.
Amaryllis don't need a chilling period.  They may bloom for about 2-3 weeks but will live for many years.  They are considered one of the easiest flowering houseplants to grow.
Characteristics & Attributes
Height: 15-24 inches
Spread: 8-14 inches