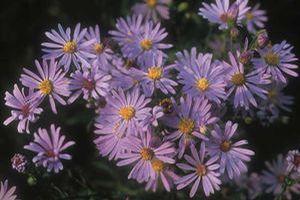 New England Aster (A. novae-angliae) –  36-60″ tall, 24-36″ wide. Dependable perennial which grows up to six feet tall and produces hundreds of large, bright purple flowers with yellow centers in September and October. Great for rain gardens and bioswales
Aromatic Aster (A. oblongifolius) – 24-36″ tall, 24-36″ wide. Abundant blooms in late fall. Naturalizes well and tolerates a variety of sites

Smooth Aster (A. laevis) –  36-48″ tall, 12-18″ wide. Smooth blue-green foliage. Abundant lavender flowers appear late in the fall when very few plants bloom, risking the danger of frost. Tolerates a wide variety of soil types and moisture levels.
Summer and fall blooming
Purple and lavender blooms
Attracts butterflies
Thrives in poor soils
Growing Tips:
Cut back plants in July for a shorter, denser habit when blooming.  Asters naturalize well.
Characteristics & Attributes