Azalea x 'Girard' Series

Azalea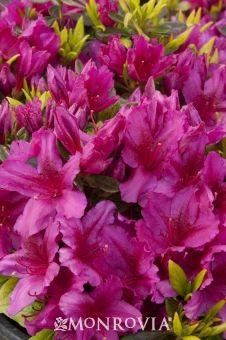 The Girard series offers the best cold tolerance of all the azalea series.  Profuse single blooms, they are the premier flowering shrub for use as a hedge, in borders, or in mass plantings for an impressive spring color display.  Evergreen.
Large colorful blooms
Dark green, lustrous evergreen foliage
The hardiest series for central Missouri
Crimson Girard Azalea – Crimson red with red blotch flowers, 2-4′ tall, 3-4′ wide
Fuchsia Girard Azalea – Profuse single, reddish-purple blooms, 2-4′ tall, 3-5′ wide
Renee Michelle Girard Azalea – Very deep pink, ruffled flowers with a dark pink spotted throat, 2-3′ tall, 3-4′ wide
Rose Girard Azalea – Profuse single, deep rose-red blooms. 2-4′ tall 3-4′ wide
Growing Tips:
Add lots of organic matter to the soil at the time of planting.  Peat moss, cotton burr compost, or composted leaves are all good examples of organic matter that Azaleas like to grow in. 
Azaleas also like acidic soils.
Characteristics & Attributes