Azalea x 'Rosy Lights'

Azalea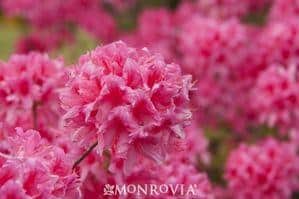 Rosy Lights Azalea is very cold hardy. Profuse single, pink blooms. Use as hedge, walkway border or in massed planting for impressive display.
Large, fragrant pink blooms
Dark green lustrous foliage
Deciduous
Growing Tips:
All Azaleas like acidic soils.  Add soil sulfer at the time of planting and as needed if leaves become chlorotic.
Amend the soil with compost at the time of planting.  Apply 2-4″ of compost or hardwood mulch annually.
Characteristics & Attributes
Height: 4-5 feet
Spread: 4-5 feet