Berberis thunbergii 'Rose Glow'
Rose Glow
Barberry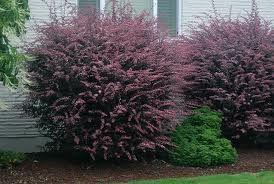 Grown for its red to purple leaves with white flecks.  This deciduous shrub has slender, spiny, branches, and small, roundly, oval leaves. Small, yellow flowers borne beneath leaves, from April to May, not showy. Small, red berries can be found along stems from late fall through winter.
Deep red to purple foliage with white flecks
Dense, rounded habit
Great for hedges
Best located in full sun, this plant is tolerant of many types of soil, but will not do well in wet to very moist soils. Leaf variegation is not evident on first growth of the season.
Characteristics & Attributes
Height: 3-6 feet
Spread: 4-7 feet