Astilbe 'Chocolate Shogun'
Astilbe 'Chocolate Shogun'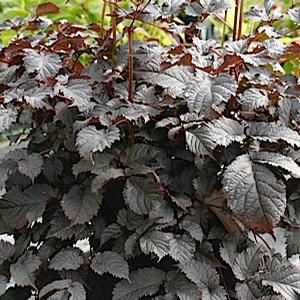 Chocolate-purple lacy foliage of this new Astilble is the deepest, darkest foliage color than any other Astilbe variety. Blooms of soft pink appear in mid summer to about 2 feet tall.
'Chocolate Shogun' would be a good backdrop to shade perennials with varigated foliage, such as Polemonium, Solomon's Seal, and Acorus.  Annuals with light pink, white or yellow blooms will also combine well with this new Astilbe.
Astilbes perfer moist, well drained soils and generally do better in light shade.
Dark chocolate-purple leaves
Small pale pink flowers
Foliage does not fade
Characteristics & Attributes