Apple Trees

Available for 2021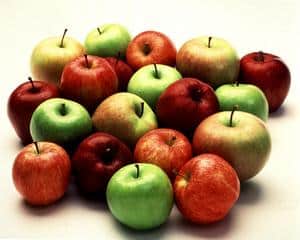 Longfellow's has determined that these varieties do well in Missouri.  All varieties offered by Longfellow's are semi-dwarf trees.
Gala Apple -Yellow-red, crisp fruit ripens early October
Golden Delicious Apple – Golden  fruit ripens late September, great pollinator
Honeycrisp Apple – Large, sweet red fruit that ripens  in  late September to early October
Granny Smith Apple – Crisp, sweet-tart green fruit that ripens in October, good pollinator
Red Delicious Apple – Red, crisp fruit with good shelf life, ripens in  mid September
Liberty Apple- Red, disease resistant fruit that ripens in late September
McIntosh Apple – Red apples with a blush of green that ripen in August
Twists ( two pollinating varieties grown together)-
Braeburn/Gala
Honeycrisp/McIntosh
Honeycrisp/Cortland
Candycrisp/Haralson
Always plant two different varieties of apple trees so they will pollinate.  Not all varieties pollinate each other.
Granny Smith, Honeycrisp and Red delicious pollinate any of the varieties we offer.
Golden Delicious and Gala do not pollinate each other.
Characteristics & Attributes