Thuja occidentalis

Fire Chief Arborvitae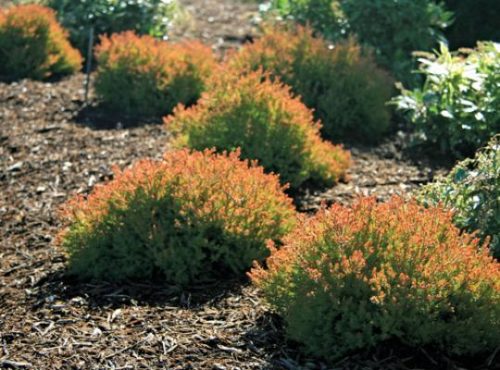 A soft and lacy fine textured plant.  It forms a perfect round ball.  Sage green foliage is topped with red tips, offering a distinctive look in foundation plantings, as low hedges, or in borders.  Reaching just 3-4′ over time, it requires little to no pruning, making this the perfect, minimal care, landscape plant. It resists sun and winter burning. Fire Chief provides food and shelter for wildlife.
Globe shaped Arborvitae
Dense fin-textured foliage
Colorful red foliage tips in winter
Growing Tips:
Easily grown in average, medium, well-drained soils in full sun to part shade. Somewhat wide range of soil tolerance, but prefers moist, well-drained loams. Intolerant of dry conditions. Best in full sun, but generally appreciates some light afternoon shade in hot summer climate.
Characteristics & Attributes
Height: 2-3 feet
Spread: 2-3 feet