Chrysanthemum

Orange Varieties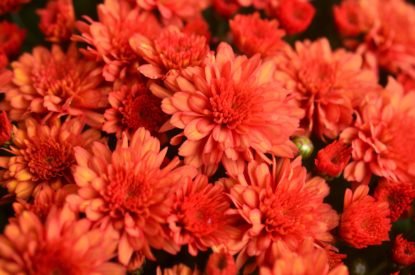 Nothing says Fall like garden mums and pumpkins!  Plant mums with Pansies and Ornamental Kale to extend color in flower beds and containers from September through December.
Choose from these orange varieties for 2020:
Crush Orange (blooms early season)
Dazzling Stacy  (blooms mid season)
Hailey Orange  (blooms late season)
Makenna Orange (blooms late season)
Miranda Orange  (blooms mid season)
Mumosa Orange (blooms mid season)
Sunset Orange  (blooms late season)
To increase the hardiness of Garden Mums, the following steps need to be taken:
Plant before September 15 so the plant has time to root in before winter.
Make sure the location is well-drained.  Roots standing in water during winter cause the plant to die.
Mulch heavily around Thanksgiving.  Leave the top of the mum plant in place – it seems to increase hardiness.
If the winter is dry, water periodically when the soil is thawed.
Uncover and cut off the old growth around mid-March, but keep the mulch handy so the plants can be recovered if there is a late freeze.
Characteristics & Attributes