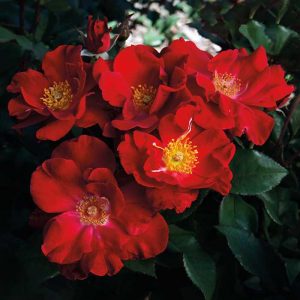 I was skeptical when I first saw an ad for the new Top Gun Rose, boasting that it was Rose Rosette resistant. Up until now, the disease, which has spread across the U.S., has caused a great deal of plant loss in landscapes and gardens nationwide. People have had to remove their beloved roses from their gardens to prevent the spread of the disease, and were told not to put roses back into their gardens.
But there is a new rose for 2018, the Top Gun Rose, which has proven itself to be resistant to the Rose Rosette Virus. Right now, it is the only rose on the market that can make that claim. Researchers at the University of Tennessee were given the task of trying to infect this plant with the virus, and they were unsuccessful. Even when this new rose cultivar came in direct contact with infected plant material and the mites that carry it, it proved itself to be resistant.
Top Gun is a shrub rose that grows 3 to 4 feet tall and wide. It has dark green foliage, and has clusters of bright red flowers with yellow stamens. The rose will repeat bloom throughout the summer, and is moderately fragrant. It is cold hardy to zone 4 (-20 to -30 degrees). Place it in full sun for best blooms. Top Gun has even proven to be resistant to the other diseases that plague roses, including Black Spot, Powdery Mildew and Downy Mildew.
For rose lovers, this breakthrough is a blessing. Researchers hope to use this new disease resistant variety to breed resistance into other new varieties.