Here is a quick list of lawn problems and the causes: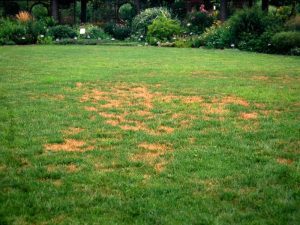 Disease in the Lawn:
Mowing too short
Not mowing often enough
Watering too often
Watering too much
Over-fertilizing
Disease usually doesn't show up until we have hot, humid weather.  Applying fungicide helps, but the best control is using good care practices.  See our blog on Lawn Care Schedule for Spring.
Presence of Crabgrass:
Preventing crabgrass and other annual weeds can easily be done by applying Fertilome For All Seasons II between March 15 and April 15, however chemicals should not be used as a crutch.  Used in conjunction with good care (deep watering but not very often and correct mowing height) will provide the best weed control.
Bradfield's Corn Gluten is an organic approach to weed prevention.  It should be applied in early spring instead of the crabgrass preventer.
Thatch Build-Up:
Over-watering
Over-fertilizing
Soil Compaction
Not mowing often enough
See a pattern forming?  One problem often shows up many ways.
Weeds:
Mowing too short
Under-fertilizing
Soil compaction
Apply Fertilome Weed Free Zone on existing weeds when they become actively growing, usually around early to mid-April.  This herbicide is very effective on hard-to-kill weeds like clover and wild onion.
Good care practices allows the grass plants to be as healthy as possible, which is the best weed control available – competition.  Weeds grow where there is bare space.  Aeration, use of compost-based fertilizer, seeding in the fall, heavy but infrequent waterings, and proper mowing height will get the lawn off to a good start.