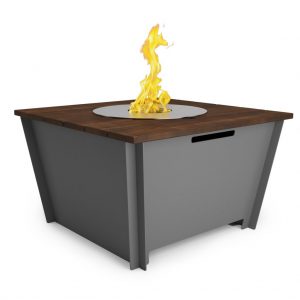 Who doesn't enjoy sitting around a crackling fire?  Some of my best memories are those that were experienced around a fire, whether it was camping on a river bank, a birthday party with a bonfire or simply roasting marshmallows over an open fire in the back yard with the kids.
I recently attended the Independent Garden Centers Show (IGC) in Chicago and saw a new product that gives you a chance to create new memories with your family and feel the warmth of a Fire.  It's a Fire Pit /Table with the dual function of a fire pit that is clean and no mess, runs on LP Gas, and serves as an accent table when you are not using the fire pit.
The Fire Pit / Table is unique in that it provides both a feature and a table that can be used together.  It if perfect for placing  drinks and other small  items on the table top or roasting those marshmallows while enjoying the beauty of the fire.  The eco- friendly, bioethanol burner sits flush into the cut out on the crushed bamboo table top.
This product is user friendly and easy to assemble.  Attach the LP propane tank, just like what you use on a BBQ  grill.  It slides into the actual table and is out of sight at all times.   It comes in 5 different colors: Dark Brown, Dark Grey, Tangerine Orange, Lime Green, and White.
Stop in and see this product on display.  Pick your favorite color and we will order it for you.  Upon arrival we will deliver it to you FREE, as long as you are in our delivery area.