Goodbye, Edinburgh! This city offers so much, we are not done with it.  But the time has come to move on to the highlands. At least the Urichs will be coming back after the tour ends, so they will be able to continue exploring.
Our tour guide Tom and driver John met us at 9:00 and off we went, through the beautiful old city, across the Firth of Forth, and headed to our first stop. Linlithgow Palace is where Mary Queen of Scots was born. Although partially ruined, this old structure provided a fascinating glimpse into royal life centuries ago.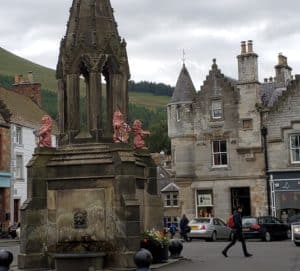 We stopped at Falkland for lunch, where part of "Outlander" was filmed at this fountain on the left of the photo.
Our garden for the day was in Pitlochery, where we toured "Explorers", the Scottish Plant Hunters Garden. This restful, partially shaded garden featured collections of plants brought to Scotland by collectors from many parts of the world.
Although the practice of collecting from the wild is now discouraged, botanists like our garden guide continue to work passionately to preserve the world's rare flora. The plants were grouped according to their native region, all seeming to adapt to the Scottish climate. We saw many plants that had come from far away originally and now are staples of the modern garden, such as monkshood, oakleaf hydrangea, and hosta, as well as rarities like the coveted Blue Himalayan Poppy.
Back on the road, we travelled further into the Highlands. Deciduous trees gave way to hillsides of low plants, dotted with sheep. We began to see patches of heather in early bloom and knew we had reached the Scotland we expected. We came to MacDonald Morhich Hotel in Aviemore, enjoyed a lovely dinner, and settled in.