We will sleep in Aviemore again tonight, using this as our central location for day trips. Today we spent hours on the road, traveling among the hills of the Cairngorms National Park and along the Whiskey Trail. Our travels took us almost to the east coast to Aberdeen.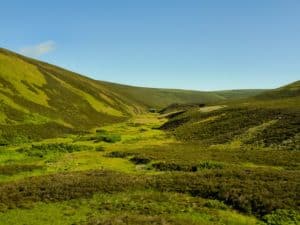 Our driver negotiated some tricky spots with our big coach, and our tour guide kept us entertained with facts and stories.  The beautiful Highland scenery included heather just coming into bloom, yellow broom, bracken, plus the Spey and Dee River valleys.
Our first stop was much anticipated: Balmoral, the Scottish estate owned by Queen Victoria and Prince Albert, which has been used as a vacation home by the royal family ever since.  We enjoyed touring the grounds and gardens, plus the Ballroom, the only room open to the public. Many preparations were being made for the arrival of Queen Elizabeth and her family in early August.
Some of our favorite elements were vivid delphiniums, fragrant sweet peas, rows of flowers for cutting, and the extensive vegetable garden. Read more after these photos.
Our next stop was at Crathes Castle, home of the Burnett family since the 1500's. We enjoyed a tour of the castle, which highlighted many historic facts and artifacts. Plus, we were thrilled by the story of "the ghost of the green lady"!
The gardens, described as "the Sissinghurst of Scotland", were the loveliest we have seen up to this point on this trip.