July 18 –
We went monster-hunting today! Well, not exactly: but had we spotted a certain creature on our journey, it would have been the icing on the cake.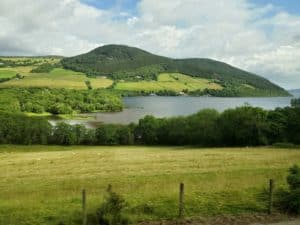 We travelled many miles and many hours on the bus today and saw so much: the length of Loch Ness, Britain's highest mountain Ben Nevis, a monument to WWII commando trainees, and the Well of the Seven Heads (ask us about that story sometime). The west side of Scotland is as beautiful as the rest.
Today's garden destination was Ardchattan Priory. The garden and priory were built in the 13th century. The ruins of the chapel and graveyard were awe-inspiring. Extensive gardens showcased many kinds of plants in borders, rockery, and park-like grounds. With a view across the water, we enjoyed this stop very much, in spite of a stiff wind.
Our final stop of the day was Hotel Ardanaiseig, down a 3-mile narrow, wooded drive. We caught our breath as we glimpsed this magnificent romantic stone building through the trees. The view includes terraced lawns, Loch Awe, and a nearby mountain. Many of the trees on this estate are ancient and gigantic. A huge walled garden on the premises is seriously overgrown, but full of potential (do we see an internship opportunity?). Some of us saw a rare black Roe deer there.
The inside of the hotel is furnished with antiques from centuries past, and our elegant dinner was probably the best we've had in Scotland. This was a very special place, feeling reminiscent of the setting of some romantic novel.
Tomorrow will be our last day. But, we are not done with our adventures yet!