Our hot Missouri summers are perfect for growing sweet potatoes, but a few things are required for successful growing.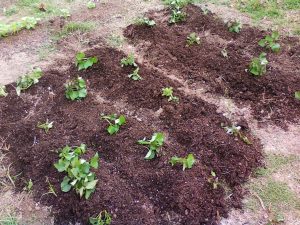 Heat – Sweet potatoes need hot weather to grow.  The slips are best planted when nights are 60 degrees and higher, often after May 1.
Drainage – Sweet potatoes need to be planted on a mound or in a container so that during wet spells the potatoes growing underground don't rot.
Sunshine – Plant these veggies where they can get sunshine for at least 8 hours a day.
When planting in ground, develop rows about 3′ apart, mounded up to 8-12″ high.  Place the plants (or slips) 10-18″ apart on top of the row by using a stick or narrow trowel to insert the plant.  Water the slip in with a solution of Fertilome Blooming and Rooting fertilizer and firm up the soil when done.  Mulch or straw can be used to hold soil in place and retain moisture.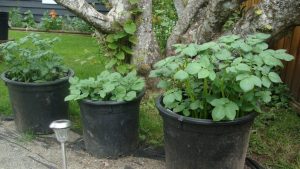 Container growing is easy, too, especially when it's time to harvest. However, the size and number of sweet potatoes produced will be in direct proportion to the container size.  Also, that container is dependent upon you for moisture!
These are the Sweet Potato varieties we carry at Longfellow's:
Georgia Jet – deep orange inside, red-purple outside
Beauregard – orange inside, red-orange outside
Centennial – carrot color inside
Murasaki – white inside, purple outside
White Yams – white inside and out
How to grow your own slips –
Sweet potatoes slips can be started two different ways: by shallowly planting a sweet potato in potting soil or to cut a sweet potato in half and place the cut end into a jar of water.  Use toothpicks inserted into the potato to support it so that only the cut end is always in water. In both cases, as green growth emerges from the potato and reaches 4-6″ in length, pull these "slips" off the potato and place directly in the ground or grow in water for a few days.