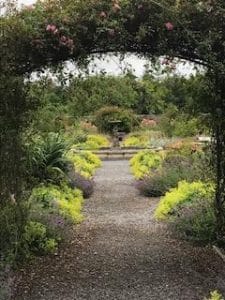 A bittersweet day…beautiful gardens and a history lesson, along with the sadness of saying goodbye.
One last walk on the Promenade outside our hotel in Galway was a must this morning.  It was our last view of the sea before leaving the west coast to travel back to Dublin.
A stop at Woodville Walled Gardens proved to be worthwhile.  Wide borders of herbaceous perennials and shrubs and trees with tall stone walls for support and protection intrigued us, along with the wide range of plant materials being used in their graceful arrangement. Our tour guide Mary was very knowledgeable and excited to share the history, the design, and other little tidbits about the gardens and plants.
It was hard to leave Woodville. Tour members lingered over tea and shopping as this was our last garden stop on the tour. Some rated Woodville as their favorite garden, summarizing it best by saying "I could live here".
While passing time as we travelled to our final stop on the tour, Clonmacnoise, we reviewed the gardens we visited.  When asked for favorites, Woodville ranked high on the list along with June Blake's Garden, St Brigit's Garden, and Beechwood Gardens.  It was agreed, every garden was worthwhile making for a varied and stimulating tour. When reflecting what we had seen, heard, and experienced these past seven days, all agreed that it was a successful tour. Unanimously, it was the people who made up the tour that was the best.
Touring the historic monastary at Clonmacnoise gave us an opportunity to piece together all that we have learned about Irish history. This monastary was founded in 544 AD by Ciaran (eventually to become St Ciaran) and continued to be active as a community and religious center throughout all these centuries until the 1950's. Our tour guide systematically walked us through the timeline and pointed out significant features of the buildings, towers, and monuments. Clonmacnoise means "meadow of the sons of nos".
A quiet subdued drive back to Dublin allowed time to reflect and mentally adjust for our long day tomorrow, the journey home.  A farewell dinner was enjoyed at our sister hotel, O'Callaghan's Mont Clare. One final pint at the Ginger Man Pub for some and packing our bags for an early wake-up call concluded our stay in Ireland.  Sharing fond memories for those travelling back the next day helped in the transition back to the states.