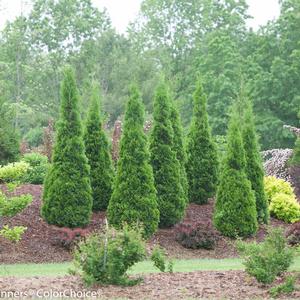 Attractive evergreen foliage and a dense habit makes Arborvitae a favorite in the landscape.  New varieties are available that can be used in so many ways.
Thuja occidentalis is also known as American Arborvitae or Eastern White Cedar and native to the north and east of US and Canada. The American Arborvitae is not deer resistant.
Holmstrup – 5-6′ tall in 10 years, eventually growing to 10-15′.  The dense conical habit makes this a good foundation shrub for corner plantings or a hedge.  This is probably the smallest of all the upright arborvitaes.
Emerald Green – Probably the most commonly planted arborvitae in 30 years, 'Emerald Green' holds a rich green color even in winter.  Growing to 12-15′ tall and 5-7′ wide, this evergreen makes a dense hedge and is used as an accent plant in foundation plantings.
DeGroot's Spire – Though 'DeGroot's Spire' grows to about the same size as 'Emerald Green', about 15-20′ tall and 4-5′ wide, it is slower growing with twisted tight-growing foliage.  It's multiple trunks are sturdy but have a different look. 'DeGroot's Spire' is easy to grow in central Missouri.
North Pole – A narrow dense form, 'North Pole' is perfect when wanting an emphasis in the landscape.  It matures at 10-15′ tall and 5-7′ wide. A Proven Winners introduction.
Thuja plicata or Western Red Cedar is cold hardy, maintains a nice green color in winter, and is deer resistant.
Green Giant – Though 'Green Giant' has all the features of Western Red Cedar, it is actually a cross of T. plicata x T. standishii.  Growing in Missouri 25-30′ tall x 12-15′ wide, 'Green Giant' grows very fast, about 3-4′ each year.  The dark green, fan-shaped foliage is loose and open, however the plant grows thickly creating a dense screen.  'Green Giant' makes a wonderful backdrop or tall hedge.
Spring Grove – A slightly smaller variety and similar look to 'Green Giant', this form of Western Red Cedar grows 20-30′ tall and 12-15′ wide. A Proven Winners introduction.
Sugar n' Spice – Also with the same fine textured, dark green foliage of other Western Red Cedars, 'Sugar n'Spice' maintains a much smaller size, only 7-10′ tall and a very narrow 2-2.5′ wide.  Definately a narrow columnar habit.
Can-Can – Possibly the smallest of the Thuja plicata group, 'Can-Can' can be used as a smaller version of 'Green Giant' in the landscape. It is also slower growing, reaching heights of only 5-8′ tall in 10 years. This evergreen offers more versatility in home landscape.
Many other types of arborvitae are commonly used in landscapes; small globes and those with golden foliage.  However, that is another topic for another blog at another time.