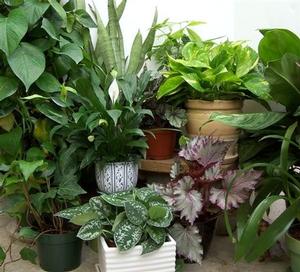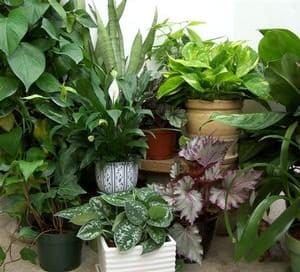 Tropical plants that do a lot more than just look pretty!
Start the New Year with a Healthy Living Space!
– Indoor plants increase humidity, which reduces cold-related illnesses by 30%.
– Plants increase levels of oxygen in your home (and decrease carbon dioxide), reducing headaches.
– Caring for a living thing and watching plants grow increases the sense of well-being, reducing stress and depression.
– House plants reduce dust and toxins that may be in your house
Best of all, certain plants actually clean the air!
Indoor plants draw in noxious gases as a part of their normal processes.  In return, they release pure oxygen.

Where do the indoor pollutants come from?
New products in your home (such as carpeting, drapes, pressed wood, bedding)
Everyday household products (cleaning solvents, hair spray, facial tissue)
Items we use every day (oil, ink, paint, rubber, and plastic)
Small quantities of benzene, formaldehyde and tricholorethylene are released daily into our living space.  Only when our homes are closed up do we tend to notice their presence.  Due to cold temperatures outside, bringing in fresh air can be a challenge.  That's where plants come in.
The 10 best air-filtering house plants (according to NASA):
Pothos
Dracaena – all types
Bamboo Palm
Peace Lily
Spider Plant
Snake Plant (Sanseveria)
Agloanema (Chinese Evergreen)
Philodendron – all types
Schefflera
Aloe vera
Longfellow's recommends all of these as easy-to-grow.