Blackberry

Available for 2020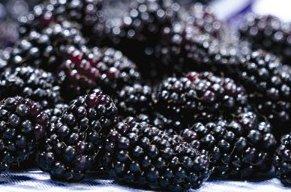 These are the varieties of blackberries we will carry this year.  They are all excellent choices for here in Missouri.
Available Varieties:
Arapaho – Thornless, ripens early, small seed size
Triple Crown – Thornless, large berries
Baby Cakes –  Thornless, large fruit, small sized plant, good for containers
Natchez – Thornless, large berries with high sugar content and good disease resistance
Growing Tips:
Blackberries will grow in just about any type of soil but prefer a well-drained soil with plenty of organic matter that is slightly acidic.
Blackberries require full sun for best fruit production.

Prune fruiting canes after berries are picked.  New growth will emerge through late summer and fall and will be the fruiting canes for next year.

Characteristics & Attributes