Impatiens hawkeri 'SunPatiens Compact' Series

Impatiens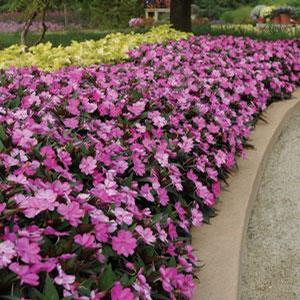 SunPatiens are a type of New Guinea Impatiens that will flourish in extreme heat and love the sun; unusual for an Impatiens! And although they love the sun, SunPatiens can also be planted in the shade, just like other Impatiens. Large, colorful blooms make a big statement.
Although the Compact Series is the smallest series, it still grows fairly large. In addition to landscape beds, it can be grown in mixed containers or hanging baskets.
Compact Tropical Rose has variegated, yellow and dark green leaves.
Available Varieties:
Blush Pink
Electric Orange
Orchid
Purple
Red
Royal Magenta
Tropical Rose
White
Characteristics & Attributes
Height: 14-28 inches
Spread: 14-24 inches