Every year plant companies and breeders introduce new plants to the nursery market. Picking the right plants to offer at our Nursery can be a challenge. We look at many different attributes of a plant when choosing what to offer. We want to make sure we offer plants that offer something exciting to our customers and that are going to thrive in our mid-Missouri gardens.
So what are we excited about this year?
The Petite Knockout Rose  from Star Roses and Plants offers the same reliability and disease resistance as the other Knockouts, only in a smaller package. It grows only 18 inches tall and features fire engine red blooms. This small selection works well in containers  as well as the landscape, and will bloom continuously from late spring through fall.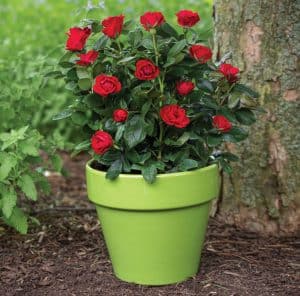 Buddleia Lo and Behold Ruby Chip from Proven Winners brings a new color to the selections of dwarf butterfly bush. This compact plant (only 32″ tall and wide) features magenta-red blooms from the beginning of summer until the first frost. It is deer resistant and drought tolerant.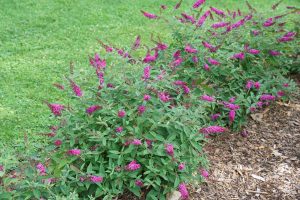 Little Missy Boxwood from Star Roses and Plants is an exciting new introduction for landscaping. This small, compact, evergreen shrub grows to only 2.5′ tall and 3′ wide. It has smaller leaves than other boxwood with a very dense habit. It has shown remarkable resistance to boxwood blight and insects.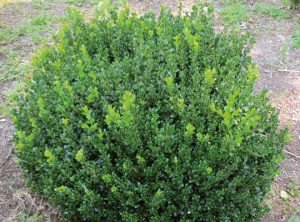 There are several paniculata hydrangeas that have recently been released. One of  our favorites is the Fire Light Tidbit from Proven Winners. If you like Hydrangea 'Bobo', you will love Fire Light Tidbit. It is a neat, mounded plant staying only 24 – 36″ in size. The large mop-head blooms start out white, turn pink and mature to shades of raspberry. In the fall, it displays colorful autumn foliage, which is unusual for paniculata hydrangeas.
Another new paniculata hydrangea from Proven Winners is the Limelight Prime. Size-wise it fits between the ever-popular Little Lime and Limelight hydrangeas at 4-6′ tall and wide, but it blooms earlier and longer than the two. Its sturdier stems mean less flopping during the bloom season as well. The blooms will blush pink as they age.
For homeowners that are looking for color in the shade, but want to keep things on the smaller side, Wee Bit Giddy hydrangea offers big, intensely colorful blooms on a small (24″), compact plant. It has been bred to be tougher and more durable than other big leaf hydrangea. It blooms on both old and new wood, extending the bloom season.
In the Lets Dance series, the slightly larger (30″)  Lets Dance Big Band, also from Proven Winners, combines improved winter hardiness with large, bright flowers. It has the ability to bloom over a long period of time.
Lets Dance Can Do, a Hydrangea serrata selection from Proven Winners, offers a hardier selection of mountain hydrangea with larger and more numerous blooms. It has been bred to produce flower buds along its entire stem, not just at the top like other serratas. It is quicker to rebloom than other varieties of mountain hydrangeas, giving you a longer season of color. Its compact size (36″) makes it an easy addition to the landscape.