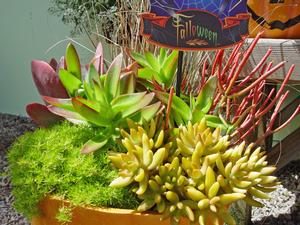 Succulents are a fun and diverse group of plants. They can be rewarding to grow if you keep in mind their requirements.
Light-  Succulents need bright light. When grown indoors, place them near a sunny window. Too little light can cause them to stretch. When grown outdoors, most succulents prefer partial to full sun. Introduce indoor grown succulents to direct sun gradually to prevent leaf burn.
Temperature-  Know whether your plant is cold hardy or not. Cold hardy succulents can be left outdoors over winter with minimal protection, such as Hens and Chicks, Sedums, and some Aloes. Succulents that are not cold hardy can typically withstand temperatures between 40 – 50 degrees for a short period of time. When the temperatures fall below that, it is time to bring them inside.
Watering-  Overwatering is the leading cause of succulent deaths. Indoors, succulents only need to be watered every couple of weeks. If your plants are outdoors in the sun, you may need to water them every couple of days. The best way to judge whether or not to water is to check the soil. If it has any moisture, don't water. If you are still unsure, remember that it is better to keep succulents too dry than too wet, and don't water.
If a succulent has its innermost or top leaves shriveling, it may be too dry. Soak it thouroughly and allow it to drain. Shriveling or browning leaves on the bottom or outside of the plant is usually not a cause for concern. Succulents will usually shed these older leaves as they grow.
Use a liquid fertilizer about once a month to keep the plants as healthy as possible.
Drainage-  Succulents unique and fascinating appearance makes them ideal subjects for garden decor. As a result, they are often used in unusual containers. A succulent placed in a container that does not have drainage holes must be watered carefully. Placing gravel in the bottom of the container will not prevent overwatering. Allow these containers to dry out thoroughly before watering.