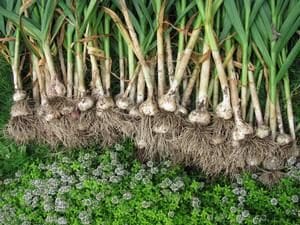 Everything tastes better with garlic!  Easy to grow, garlic is also a host to many beneficial insects. Read more about this easy-to-grow vegetable.
Garlic, along with other members of the onion family, are great pollinating plants.  They attract many types of bees and other pollinating insects.  Garlic, onion, chives, and ornamental alliums can be planted around grapes, fruit trees, and in the vegetable garden to enhance pollination of food crops.
Garlic is also a repellent of many "bad" bugs, especially Japanese Beetles!!! as well as warding off many diseases.  Read more in our Companion Planting how-to articles.
At Longfellow's, we carry the California Soft Neck variety.
How to Plant –
Pick a site in full sun that is well drained.  Separate the individual cloves from the bulb and insert into the soil so that the tip is just covered over with soil.  The bottom of the clove is flatter and less pointed.
Once the clove is watered, roots will start to form, followed by narrow tubular leaves emerging in a few days.  The leaves may die through the winter, but new ones will grow once soils warm up in spring.
Mulch the growing garlic plants around Thanksgiving with about 2″ of compost or mulch to insulate the young plants through the winter.
How to Harvest – 
After growing all summer, the clusters are ready for harvesting as the foliage dies back, usually in August.  Pull the clusters and let air dry, out of sunlight for a few days.  They can be "braided" and hung in a garage or cool room, or stored in a breathable container (not plastic) at room temperature.
Harvest in August, replant in September…..easy to remember!
Can garlic purchased in the grocery store be used to plant in the garden? Many times, garlic and other produce have a growth inhibitor sprayed on them extending the shelf life.  Organically grown garlic may be safe to use, just as long as you are comfortable with your source.  Also, some varieties sold in stores are not hardy here in Missouri.