New varieties of Clematis are bringing lots of options to gardeners.
Known among gardeners as "the queen of vines", clematis is a reliable plant for Missouri landscapes that creates a colorful floral display in early summer.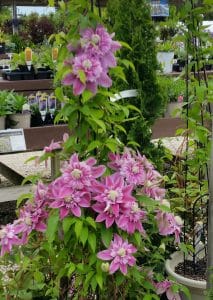 Recent introductions of more compact varieties have given gardeners the option of using Clematis in smaller spaces, even in containers on patios.  Best known are the Raymond Evison collection of Clematis.  These varieties only grow 6-8′, whereas traditional types grow 12-20′.
The re-blooming tendency of the Raymond Evison collection make these Clematis a desirable choice, often producing flowers from spring until autumn.  The flowers are also larger, adding to the colorful show.
We planted several containers of these re-blooming clematis last summer, along with an obelisk for support, with the purpose of an attractive patio container for this summer. Now that they are in their second year, the floral display is outstanding! You can be sure we will do more for next year.  And, you can do the same. We recommend a 16″ pot or larger, and don't forget some sort of support.
Overwintering of the containers involves protecting the containers somehow, perhaps wintering in an unheated garage or shed.  Check weekly for water needs, though they don't dry out very quickly.  New growth should emerge by April once planters are moved outside.
Feed the plants monthly until August with a slow release fertilizer, or weekly with Fertilome Blooming and Rooting.  More than six hours of sunlight are required to produce flowers.
The stems of clematis are delicate. Position these plants where they are unlikely to get bumped.