Asparagus
Available for 2017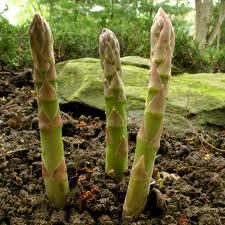 This variety of asparagus produces spears at a younger age than many varieties.  It is an all-male selection, meaning most of the stalks are thicker (though some female stalks may still develop).
Pick the stalks until early summer, then let the foliage develop so the plants can produce spears next spring.  Plants will grow 3-4′ tall with lacy delicate foliage that turns yellow in the fall.

'Jersey Knight' is resistant to rust, root and crown rot, and fusarium diseases.
Asparagus beetles and Japanese beetles can be a problem, but not generally in Missouri.  Contact Longfellow's if needing advice on insect control.

Larger spears
All-male selection
Bears second year
Characteristics & Attributes