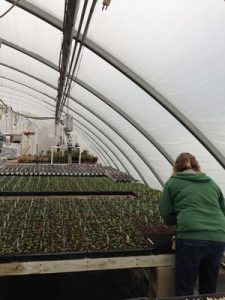 Growing the plants you buy; from planning to planting.  My job as Production Manager.  -by Erin Markway
Did you know that all of the vegetables and almost all of the annuals we sell are grown right here at Longfellows?  We also grow quite a few of our perennials as well. Talk about locally grown! 
Even though you may think of spring as the only time to buy plants, we are actually busy most of the year either tending to the current season's plants, preparing for the next season or planning for the future seasons. Summer and early fall is when I have more time to sit down and start getting my orders placed.  I look through lots of plant catalogs, read trade magazines and emails, visit trial gardens, and meet with sales representatives to learn what plants are new and what I can grow for another successful spring.  I place orders for seeds and baby plants and containers and soil and tags and supplies, and then I hope that I remembered everything we will need!  By the time fall is over, the greenhouses are cleaned up and products start shipping for the next year.
After returning from winter break, I'm already starting to sow seeds and we start planting our geraniums and spring pansies.  In February, we are planting our hanging baskets for Mother's Day gifts and porch decorations.  During mid-February and March, we are receiving thousands of little baby plants each week.  We work as quickly as we can to get them transplanted so they can start growing and establishing healthy root systems.
As the weather warms up and the plants grow, we spend more and more time at the end of the hose.  Watering is a great way to keep a close eye on how each plant is doing as well as see how popular each plant is with our customers.  Every time we are watering, we are using a natural fertilizer to help the plants grow stronger.
And just as quickly as the spring rush comes, it's over just as fast.  But early June is not the time for us to slow down yet!  We are prepped and ready to plant our next crop, fall mums.  We grow around 3,500 mums, all summer long, and by August they are ready to be sold.  We also plant more vegetables for fall gardens and a fall crop of pansies and annuals to refresh containers and flower beds.
By the time the fall season has come to a close, we are focused on the finished poinsettias and Christmas trees that are arriving and decorating for the holidays. Plants have already been ordered for the next season and we take a litle time to rest, recharge and prepare for the cycle again.