Perennials can last a very long time in your garden, especially when cared for properly. They add color to your landscape without having to replant every year! But, that doesn't mean you should just plant them and forget them.  When neglected, perennial plants can start looking "weedy" or even die out. When given proper care, they can be a pleasant addition to your garden for a long time.
Matching perennials with the site best suited to their needs is important for you and the plant.  The plant will perform without much work from you.  Adding organic matter to the soil will create a better environment for the root system to grow.  Placing mulch around the plants helps to maintain moisture, which means less watering for you and reduces root damage, plus, it creates an insulator during the winter.
Like all plants, perennials need at least 1″ of water per week. Fertilizing is important to keep the plant strong and healthy, as well as to make a big show.
Certain perennials, at some point, require deadheading, staking, dividing, weeding, and spraying. Spring and Fall are best for dividing and moving. Cut back the foliage in the winter and make sure it has good drainage.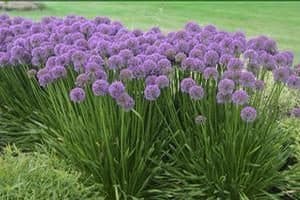 Below is a list of some perennials that work well under certain conditions.
Drought Tolerant: Aster, Baptisia, Coneflower, Daylily, Evening Primrose, Gaillardia, Lavendar, Phlox, Sedum
Wet Areas: Ajuga, Brunnera, Forget-Me-Nots, Geranium, Hibiscus, Lobelia, Sedge, Spiderwort
Attract Butterflies: Allium, Bee Balm, Catmint, Dianthus, Golden Rod, Liatris, Rudbeckia, Shasta Daisy
Attract Hummingbirds: Agastache, Columbine, Delphinium, Foxglove, Hollyhock, Iris, Penstemon, Salvia
Long-blooming: Aster, Balloon Flower, Coreopsis, Gaura, Plumbago, Russian Sage, Veronica, Yarrow
Stop by Longfellow's to see our extensive selection.  For more information, refer to Our Plants on this website. Select by botanical or common name, or by how you plan to use the plant.