Japanese beetles have been a nuisance in mid-Missouri gardens since 2006.  Over time, gardeners have found ways to combat these voracious eaters through plant selection and various control methods.
Plant Selection
Certain plants attract Japanese beetles, some that don't seem to attract, and some plants actually deter these pests.
Plants That Attract Japanese beetles:
Fruit trees – Plum, Cherry, Peach, Apple
Vines – Grape, Virginia Creeper
Flowering Shrubs – Roses, Crape Myrtle
Trees – Linden, Maple, Willow
Vegetables – Corn, Asparagus
Plants Tolerant Of Japanese Beetles:
Shrubs – Boxwood, Burning Bush, Lilac, Forsythia
Perennials – Hosta, Coreopsis
Trees – Ash, Dogwood, Redbud, Magnolia, Red Oak
Plants That Deter Japanese Beetles:
Vegetables – Garlic, Chives, Onion
Herbs – Catnip, Rue
Annuals – Marigolds
Perennials – Geranium, Larkspur
Methods for Japanese Beetle Control
Just one Japanese beetle lays 50 grubs each year. The more beetles killed, the fewer beetles that can hatch out next year.
Milky Spore –
Microscopic bacteria (Bacillus papillae) feed off Japanese beetle larvae while they are lying dormant in the soil. Available in a powder and a granular form.
Advantages – naturally occurring bacteria that affects only beetle grub. Application lasts several years.
Disadvantages – Not all the beetles that feed in a yard are from that area. Milky Spore only reduces the beetles that emerge in that yard.
Chemical Sprays –
Longfellow's recommends Fertilome Triple Action. Spray early in the morning (before 8am) or late in the day (after 7pm) while beetles are lethargic.
Advantages – kills beetles quickly.
Disadvantages – kills by contact only. Must spray every few days as more beetles hatch out.
Soapy Water –
Each morning and evening, pick clusters of beetles off plants and dispose into soapy water. Can also shake branches with a bucket of soapy water placed underneath.
Advantages – no chemicals or products needed.
Disadvantages – time consuming.
Traps –
Adult beetles are attracted to the pheromone lure on the Japanese Beetle Trap and fall into the attached bag. Place traps at least 500 feet away from affected plants.
            Advantages – easy to use and effective.
            Disadvantages – traps fill quickly and must be replaced.
Beneficial Nematodes –
Naturally occurring nematodes (Steinernema feltiae) begin killing Japanese Beetle larvae within 24 hours of application.
Advantages – active for 18 months.
Disadvantages – not readily available.
Row Covers –
Create a physical barrier between Japanese Beetles and affected plants.  Protects plants for the short period in which Japanese Beetles are active.
Advantages – reusable from year to year.
Disadvantages – must be removed in order to weed or maintain plants.
Environmental Controls
Weather –
Drought in July or August can kill off newly hatched larvae.
Grubs also die when soil temps reach 15°F for a few days or remains 32°F for 2 months without snow cover.
Natural Predators: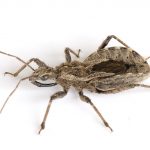 The following are known to prey on Japanese Beetles larvae reducing the population-
Birds
Chickens and Guinea Fowl
Assassin Bugs
Moles and Armadillos