No one likes to see "cookie-cutter" landscapes.  Boring rows of boxwood, spirea, and burning bush are just not inspiring.  After all, variety is the spice of life. The key is to use unique plants with different shapes in different ways.
Here are 10 different trees and shrubs that can enhance a landscape in ways you can't imagine.
Trees-
Fringe Tree – This native tree blooms white in late spring and grows in full sun to partial shade. The fragrant blooms may develop into blue clusters of fruit if cross-pollination can occur. Fringe tree may grow into a very large shrub or small tree with a loosely oval shape between 12 and 20 feet tall and wide. Friendly to pollinating insects and birds.
Kindred Spirit Oak – Make a statement with this tall, narrow tree, drawing attention to an area with its unique shape. Eventually growing at least 30′ tall and only 6′ wide, Kindred Spirit is one of several narrow selections of white oak that are used in very unique landscape situations.  Like all oaks, it is very durable and attracts pollinators.  This oak adapts well to wet areas and is surprisingly fast growing.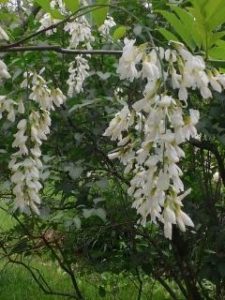 Yellowwood – Sweet-smelling clusters of white blooms in May make this tree well worth its space.  Also native to Missouri, yellowwood gets its name from the dye that comes from its roots. Though this tree can grow from 30-50′ tall and equally wide, it's canopy is light and it's roots are deep making it a nice source of shade next to a patio. Full sun.
Ruby Tears Crabapple – A naturally weeping selection of crabapple, 'Ruby Tears' grows about 8′ tall and 10′ wide. It's purple-pink blooms in spring turn into small burgundy-colored fruit. The foliage is purple-bronze in spring and remains dark colored until the leaves turn orange in the fall.
Shrubs-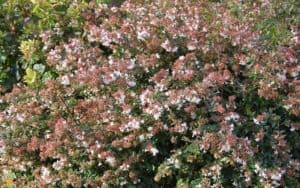 Abelia 'Rose Creek' – Abelia has made quite an entrance into the world of landscape shrubs. What used to be not quite hardy here in central Missouri, new selections are really proving to be valid options.  Newer selections of Abelia can run from 2 to 6′ tall and 4 to 6′ wide, depending upon the variety.  'Rose Creek' is one of the smaller selections, about 2′ tall and 3′ wide. It is best known for its clusters of white blooms from July to October and the subtle pink calyxes remaining as the flowers subside. The result is pink pom-poms in the fall, a time of year that is not usually exciting among plant materials.  Abelia is semi-evergreen and can take full sun to some shade.
Aronia 'Low Scape Mound' – "Tough-as-nails" would be another name for this little shrub.  Tolerant of extremely dry soils and hot conditions, this dwarf chokeberry has found its niche here in the midwest.  White flowers in spring give way to small black fruit (not edible unless made into preserves).  The foliage is a glossy, dark green color with the most intense bright red fall color. It is mounding in shape and only grows about 2′ tall and 4′ wide.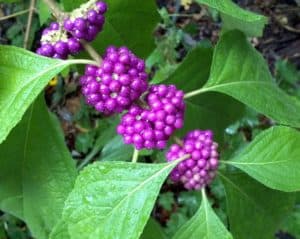 Beautyberry – Also native to Missouri, this shrub is best known for it's very unique lilac-colored fruit.  There is nothing else like it in the landscape.  Lime green foliage that turns yellow in fall is one feature of this medium-sized shrub that will grow in full sun to partial shade.  Pruning hard each spring will help to manage the size of this plant (4-5′ tall and wide without pruning) but also encourages new growth that supports beautiful displays of the fruit in August through October.
Chamaecyparis 'Soft Serve' – An evergreen introduced by a breeder right here in Missouri, 'Soft Serve' does keep to it's name with branches and needles that are soft to the touch, unlike many other types of evergreens.  This evergreen is also unique in it's size.  Not many pyramidal evergreen trees only grow 6-8′ tall, perfect for many home landscapes.  Place this tree in a protected spot, however, as it does not like the strong, drying winds of Missouri winters.
Fothergilla gardenii – Not many know the shrub fothergilla, but those who do manage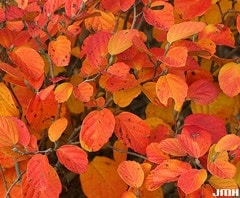 to find a spot for this quiet beauty. Most fothergilla grow 6-8′ tall, but F. gardenii is a dwarf form only growing 2-3′ tall and wide.  Tolerant of shady spots, it also can take quite a bit of sun.  Creamy-white bottle-brush blooms emerge in spring and bluish-green leaves turn red, orange, and maroon in the fall. This shrub is happiest in a moderately moist, acidic soil amended with compost.
Hypericum 'Blue Velvet' – St. John's Wort has been known to gardeners for centuries, but the blue-green narrow leaves of 'Blue Velvet' are definitely unique.  Like other Hypericums, 'Blue Velvet' loves the sun and tolerates dry soils, perfect for a Missouri summer. This form does not grow very large, 2-3′ tall and wide, and has a rounded habit.  It also attracts pollinators but is deer resistant.