Assessing the Damage – Spring 2018
One thing consistent about Missouri winters is that they can be brutal in the strangest ways.  What seems like a mild winter yields what we call "winter damage"; burnt leaves, dead twigs, missing plants, reduced flowering, and shrubs that show no signs of life.
The Holly 'Centennial Girl' in my yard looked to be in bad shape in March.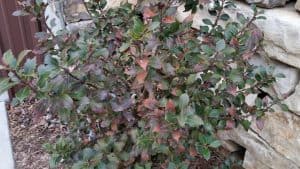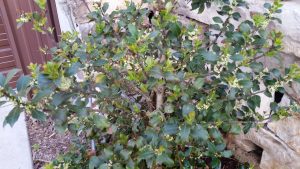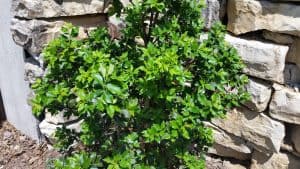 The message here is to not give up.  Give things a little time. 2018 is the year that it took well into June for new growth to emerge on Crape Myrtle, hardy Hibiscus, ornamental grasses, and Butterfly Bush.
Another trick to check on viability of younger plants…tug on the shrub.  If it resists, the plant may be trying to send out growth.  If it gives way easily, there is no root system and it's time to replace this shrub.
Our recommendation:
Fertilize with Fertilome Premium Bedding Plant Food.
Water thoroughly.  Though some have had rain, a good soaking is in order to activate the fertilizer and help plants recover from the drought damage.
What caused the winter damage this year?
Extreme drought – we experienced the driest fall on record.  Normally, homeowners don't have to water past October, even if it is a dry fall. Irrigation systems are winterized by November. It's not on our minds to be thinking about winter watering, in spite of the reminders from us here at Longfellows.
Record breaking warm temperatures in November, and December. Some plants didn't get the signal to go dormant until the cold hit on Christmas Eve.  With the sudden drop, it was devastating to certain plants.
Long cold spell in January – though zero degrees is not uncommon for Missouri, the long period of time that it stayed cold caused the soil to freeze deeper than normal.  Roots, stems, and buds weren't properly hydrated to withstand this prolonged cold spell.
Spring was delayed resulting in growth not emerging until what is typically summer. Those plants that grow when temperatures warm up didn't get the signal until late. Yet, those that emerge according to day length tried to grow, erratically because it was still so cold. A truly confusing gardening season!
Then, it went from winter to summer – Some plants require moderate (spring-like) temperatures to grow properly.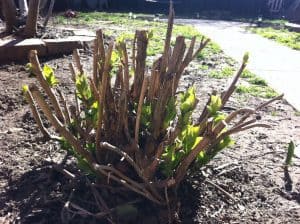 We essentially had no 70 degree days.  It went from the 50-60's straight to the 80's.  The results from this can be seen in mop-head hydrangeas.  Alive, but very slow to grow.